If you are in the quest for finding the best pan for deep frying fish, you would have found variety of options including stainless steel, carbon steel, non stick and cast iron fish fry pan.
What would be the best pan for deep frying fish for you it depends on the quantity of fish you want to make and the price and maintenance you can afford?
You not only need a large fish frying pan but the material and efficiency of the cookware is also considered important.
What is Deep Frying in Pan?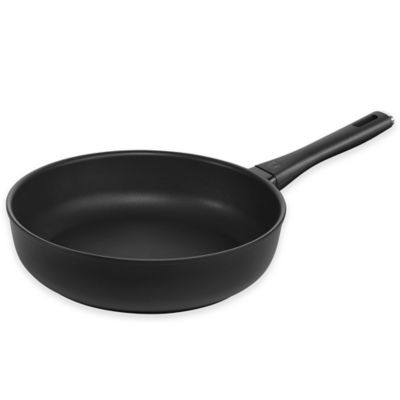 Deep frying is a cooking technique in which the ingredients cooking are completely immersed in the oil. This cooking method involves large quantity of cooking oil.
Deep frying is a quicker cooking method compared to pan frying; moreover, it retain the food juices gives a crispy texture to the ingredients.
Deep frying is possible only in a deep frying pan provided with high walls just like a sauce pan or sauté pan. Using normal frying pan would be dangerous to use as it may cause splattering or spilling hot oil.
A deep frying pan is specially designed mostly featuring a basket and a lid for deep frying and cooking ingredients with a significant amount of oil.
Deep frying pans are known best to deep fry chicken, fish, French fries, potato croquettes, cheese sticks, seafood, onion rings, and Brussels sprouts.
The Difference Between Pan Frying and Deep Frying
Apart from the construction and design there are significant differences between deep frying and pan frying. Following are some of the major aspects discussed.
Equipment: Pan frying can be easily done in a frying pan, while deep frying a deep frying pan, sauté pan, saucepan or a deep fryer.
Quantity of oil: Pan frying requires less amount of cooking oil; it only requires covering the cooking surface.
Deep frying requires large quantity of cooking oil that not only covers the ingredients but also make the ingredients completely immersed in it.
Cook Time: If we compare cooking duration, pan frying requires much time than deep frying.
The reason is, in deep frying the ingredients are not expose to air and are fully immersed in hot oil which makes them cook fast.
On the other hand, in pan frying ingredients are exposed to air, which make them take more time to cook.
Results: In deep frying the ingredients get a crispy texture with a soft and juicy interior. In pan frying the food gets brown from the outside and remain soft from the inside.
Deep frying vs Pan frying. Which is the Best Method? Both deep frying and pan frying have their own benefits and requirements. If you want to get specific results then you need to have proper utensils and staples.
If you want to cook faster and attain a crust or crispy layer on your food then you should go for deep frying.
However, if you only want to achieve brown color with slight crispy texture then pan frying is best.
Pan frying is a healthier cooking technique but sometimes it is also depend upon the ingredients you need to cook, the amount of oil you need to use and the final result you want to achieve.
Also read following
How to Choose Best Pan for Deep Frying Fish
The following are major factors that you must consider before purchasing pan for deep frying fish. Well we have tried to explain all major factors that directly link with product. Based on this you can choose your best pan for deep frying.
Material:
A deep frying pan made of material capable of retaining and distributing heat efficiently and evenly is very important.
Mostly frying pans for prepping deep fried fish are made of cast iron, stainless steel, carbon steel, and non-stick coatings.
Cast Iron:
Though cast iron pans heavy but they are good at providing consistent and even heat. Unlike other fry pans they considered great for providing flavorful crust; however, in order to keep it in good condition you need to season them regularly otherwise the pan will rust.
Since cast iron can handle high heat, they are good for prepping fish you can turn up the heat get a beautiful sear on your fish fillet and put your fish into oven to get cooked on lower heat.  
Cleaning the cats iron is tough, you need to clean them right after the use using soft sponge and mild dishwashing soap as they are dishwasher safe nor stand water for so long.
Carbon Steel:
Unlike cast iron carbon steel pans are light weight and easier to clean and maintain. However, if we talk about durability and performance they are performs the same.
It has its own natural non stick ability that keeps the food from sticking so if you looking to fry delicate foods such as fish then it well offer you optimal results you are expecting.
Carbon steel pans distribute heat quickly and evenly but you need to be careful with the ingredients as they react to acidic food and change the flavors of the food.
Stainless Steel:
Stainless steel pans are good for people with expert cooking skills. They are not only look nice but are also find durable to withstand high heat over various cooktops including oven.
Since they don't have any non stick capabilities so might find difficulty keeping the ingredients from sticking. They are easy to clean by hand or can be send to dishwasher without fearing any risk of damage.
Size:
The size of the pan depends upon three factors. One is the amount of meal, you usually need to prepare with it if you have a small family then buying a large sized would be of no use.
If you like to have big sized fish or fillets you may need a fry pan that can adjust at least two fillets at once.
The size of your stovetop hob buying a large pan for a small hob may not able to offer you evenly cooked results similarly if you buy a small pan then your ingredients might get burn and you need to be extra careful for keeping the temperature maintained.
Pouring Spouts:
Frying pans with pour spouts make life easier by keeping the counters clean from any possible dripping of oil, grease and sauces. Even if you are making a deep fry fish and later wants to transfer the remaining oil into a jar for future use transferring it would be a lot messier if pour spouts are missing. Always choose a fry pan with pour spouts.
Handle:
If a frying pan large deep and heavy-weighted but the handle is not sturdy enough to bear its weight, maneuvering and quick handling then it is useless. A handle is the most important part of a frying pan. A strong and comfortable handle of a pan makes cooking a lot easier.
Riveted ate considered more durable as they are permanently attached; however they need to be properly cleaned as the food residue stick there easily which can cause bacterial buildup.
Stainless steel handles are consider great since they do not conduct heat like aluminum and remain cooler than the rest of the pan.
Metal handles with hollow design near the edge of the pan's walls offers cooling effect too. Silicone covered or Bakelite handles are also great options as they are cool, soft and comfortable to grip.
But beware these silicone handles are not made to resist high heat and may starts to melt upon leaving into the oven or on the stovetop. Consult the manual in such situations.
Cleaning:
If you are not into hand washing or requires a pan that does not require much maintenance and can be easily cleaned then go for a carbon steel pan.
Carbon steel are natural non stick and can be washed easily using hot water and sponge. You can also opt for non stick pans; however, non stick pans require to be gently washed and not all non stick pans can be thrown into the dishwasher.
PREPARATION OF FISH WITH DEEP FRYING PAN
Choose your Fish
You need to be choosy for the fish to fry because not all fish are for frying due to quantity of oil they contain. Select a neutral-flavored white fish mostly they are less in oil.
Fishes best for pan frying are tilapia, cod, catfish, trout, striped bass and perch. Fresh or frozen both works fine; however, in case of frozen give it sometime to thaw before putting it into the pan.
Prep the Fish
Around four ounces of skinless fillets is the perfect amount for serving a small family. In case of fillets thicker more than a half inch bring them to the cutting board to get your desired thickness. Meanwhile, it is the best time to check for bones if necessary remove them gently using a knife.
If you are frying a frozen fish then give it some time to thaw, rinse and pat dry with paper towels before starting; it will get you a crispier fish.
Breading the Fish
Season the fish thoroughly on both sides with salt, pepper, egg and bread crumbs. Adding salt works as a barrier between the grease/ oil and fish. Now keep the fish fillets in the refrigerator for 15 minutes to settle the crumbs.
Fry the Fish
Heat your skillet or deep fry pan over medium low heat. Cast iron and stainless steel pans are preferred by expert cooks; however, beginners can deep fry their fish in the non stick pans as well. Start by adding two fillets into the pan at once.
Use tongs to safely flip the fillets, upon frying remove the pieces using tongs and let the oil drain on to the paper towel placed in the plate.
Do not add more than two pieces at a time, since fish is a delicate item tossing and flipping may cause the pieces to break into pieces. In case you a have lot of fish to fry keep the fried fillets into the oven to keep them warm and fresh.
Deep Frying Pan vs Wok Pan: Which One to Choose?
Wok Pan
A wok pan is traditional Chinese cooking vessel. It is a deep cooking vessel with round bottom and raised walls allowing it to distribute heat evenly from the base to the high sides. They are known best for stir-frying.
Deep Frying Pan
A deep frying pan is similar in looks just as the tradition fry pan we use to prep eggs and pan cakes but is relatively deeper with high walls. Compared to wok pan it has a flat bottom with sloppy side that makes it easier to flip the handles. It has a long single handle.
Differences between Deep Frying Pan vs Wok Pan
Cooking Time
A wok pan is known for cooking food faster than any other staple in the kitchen. It takes lesser time to cook food than a frying pan takes to prepare.
If you want to cook a lot of food quickly then a wok is a far better option than a deep frying pan. A deep fry pan may offer you space but it takes a longer time to cook food because of its built and it unlike wok pan it is not good with high heat.
Usage of Oil
Mostly woks are naturally non stick and the round bottom further creates extra depth which as a result requires less oil. This feature make the woks more safe, healthy and economical.
On the other hand, with deep frying pans you need to use a lot of oil to prevent the food from sticking. The excess oil consumption is not good for health.
Heat Retention & Distribution
Since other staples in the kitchen cant stand high heat as wok so when it comes to foods that require high heat and requires less cooking time wok is considered the best.
Unlike frying pans, high heat cant damage the cooking surface of wok. Frying pans do not withstand the high heat and may get damage, cooking in them can be hazardous to health.
If we talk about the heat distribution and retention both the staples work fine. Since it depends on the kind of material they are constructed; however, deep frying pans that are mostly constructed of aluminum, cast iron or carbon steel with different non stick coatings distribute heat evenly all across the cooking surface.
Maintenance
A wok requires regular seasoning; however, if it is made of carbon steel it does not require much effort and tend to create its own natural non stick surface over time. You also need to make sure that the wok is not exposed to moisture, moisture can cause corrosion.
Stovetop Compatibility
Since wok is resistant to high heat, it can work on almost on all cooktops but most woks are not induction and oven compatible. However, unlike a wok frying pan works perfectly on various heat sources including induction and oven.  
Tips to Clean and Maintain Frying Pan
In order to maintain your deep frying pan in good shape wash them it warm soapy water, sponge and dry with soft cloth before storing them. The rule applies to the newly piece of pan freshly taken out of the box as the manufacturing dust and residue must be cleaned before use.
After every use, and even prior to the first use, keep your fry pan seasoned to avoid rust and corrosion.
Not all deep frying pans are made to stand high heat so check out the manual for stovetop compatibility and maximum temperature. The best rule is to avoid unnecessary high heat and cook on low to medium heat.
Not all fry pans are made for dishwashing, if you don't want to hand wash your fry pans then check out the fry pans that are dishwasher safe. However, continuous dishwashing can shorten the life span and may compromise the cookware finish.
Always use rubber, plastic, wooden or silicon made utensils; sharp edged utensils and knives can damage the surface or non stick coating of your deep fry pan.
Avoid abrasive washing pads and steel wool for cleaning. it can cause scratches. In case stubborn food residue stick to the surface submerge the pan in hot water for some time and later give it a wash with soft sponge and soapy water. 
This 5 quarts sauté pan is made of premium grade hard anodized aluminum that is built to last. The brushed stainless steel handle with tempered glass lid adds elegance to its aesthetics. The double layer of PFOA-free nonstick interior is scratch resistant prevents food from sticking and makes cleaning a breeze.
If you are considering having non stick deep fry pan then this classy Calphalon sauté pan is good to go. It's an oven safe staple can stand to the heat of gas, electric, glass, and halogen stovetops.
Constructed of hard anodized aluminum this scratch and corrosion resistant workhorse is built to perform durably. The hard titanium reinforced non stick coating slides off the food smoothly makes both cleanup and cooking easier every day.
Featuring with thermo spot indicator the 12 inch pan preheats perfectly to show when to add ingredients so it can seal in the flavor and cooks food evenly. Titanium reinforced non stick interior makes it among the best pot and pan for deep frying fish, sautéing and browning ingredients.
This 10 inch stone earth frying pan has a micro stone derived coating that is relatively safe and healthy in comparison to traditional non stick pan. The natural non stick coating prevents scratches makes it easier to release food release and clean.
With the high walls, the depth is enough for making stir fries, sautéed dishes and deep fried fish. The durable interior is made of durable heavy-gauge aluminum, along with a magnetized bottom that allows fast heat transfer on induction stoves as well.
This 8 inch skillet is made in America. The features with a natural non stick coating and can sauté, sear, fry, bake and stir fry without a doubt.
The cookware offers superior heat retention and even cooking. The durable high walls of this lodge pan makes it the best pan for deep frying fish, other than that it is the right tool to  sear, sauté, bake, broil and braise.
The naturally seasoned non stick coating ensures quick release, easy clean up and gets better over time.
though it is not dishwasher safe and induction compatible but can be used in oven, on the stove, on the grill and over the campfire
Final Verdict
We hope that the above article would have been helpful and now you are able to choose the best pan for deep frying fish for your kitchen. We have discussed some of the best pan for deep frying fish available in the market.
The list includes, toxic free stone derived non stick coating, hard anodized construction and PFOA free non stick coating. Since the list includes some of the best fish frying pans, the material is safe, healthy, scratch and corrosion resistant.
FAQ – Frequently Asked Questions
Which pan is the best pan for deep frying fish?
Any large fish frying pan, it could be stainless steel, carbon steel, non stick deep fry pan or cast iron fish fry pan works great for deep frying fish.
Is stainless steel good for deep frying?
Best pot and pan for deep frying fish is made of cast iron since cast iron is known for its superior heat retention; but if you are looking for a low maintenance fish frying pan then carbon steel and stainless steel are also known as the best pot and pan for deep frying fish.
Do you need a special pan to deep fry?
No there is no need to have a special deep fryer all you need is a large fish frying pan that is deep enough to be used as a fish frying pan. For deep frying any pan with high walls can be used such as stainless steel, carbon steel, cast iron and non stick deep fry pan.
A 4 to 6 quarts sized, heavy deep pot works just fine for a family of four to five persons. Cast iron fish fry pan holds heat well that is needed for deep frying.
Is it safe to fry fish in non stick pan?
Nonstick pans are perfect for prepping delicate fish fillets. In order to make delicious and crispy fish, make sure the fish is patted dry and the pan is preheated for an evenly cooked and crispy result.
What kind of pan should you cook fish in?
A large stainless steel fish frying pan is best for frying fish. You can also use carbon steel and cast iron skillets for deep frying fish. Non stick is not considered for searing crispy-skinned fish.